Hayley Wyckoff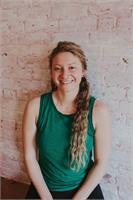 I took my first yoga class at Sanctuary in 2013 & I was hooked. With an athletic background consisting of basketball & track, & an active lifestyle filled with activities like tennis, roller-blading, and hiking, I like a sweat, a challenge & competition. Yoga is truly a competition with & of yourself - to hold integrity & to become a better version of yourself. I have learned & gained so much through this practice. Yoga holds a special place in my heart because of it's healing qualities & numerous other benefits. Finding a deeper connection to myself on my mat, through movement & breath has lifted my spirit, enhanced all areas of my life & helped create a much healthier lifestyle. I am honored to pass this practice along to others & to hold space for others to grow, release, and realize potentiality. I am beyond grateful for this practice.
Hayley Wyckoff instructs the following:
Our signature class. An energizing flow that connects you to your power. A full body workout, meditation in motion. Be ready to breathe...sweat...and experience transformation! Open to students of all levels.