Sam Voket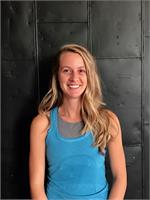 I've always dabbled in different styles of yoga, taking a class here and there, until I was in college & found myself struggling. Yoga then became the only constant for me & the place I would retreat to, time & time again. Since then, I haven't been able to get enough of it. My practice has taught me, & continues to teach me, that there is only this moment & this breath. To always come back to my breath, on & off my mat, & to lean on it for support. To me, yoga is about finding the power within & allowing it to guide you.
Sam Voket instructs the following:
Our signature class. An energizing flow that connects you to your power. A full body workout, meditation in motion. Be ready to breathe...sweat...and experience transformation! Open to students of all levels.