Christopher Sinclair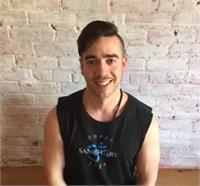 The human body is the most versatile & beautiful tool that any and all of us have at our disposal, & I have found no better way to explore the potential & infinite possibilities presented by that tool than through the practice of yoga. While I have engaged in a physical practice of one sort or another consistently over the last ten years, my practice of yoga has really begun to deepen & broaden in the last couple of years. I realized at a certain point that I was making many demands of my body without taking any time to celebrate it. When I am on my mat, there is an underlying sense of celebration - for my body, which allows me to practice - for my breath, which renews and supports me - for my mind, which spurs my curiosity - & finally, a celebration of the opportunity to integrate and synchronize all three through yoga. To be able to teach & to share in that celebration with others, wherever they are in their journey, is both an honor and a privilege.
Christopher Sinclair instructs the following:
Where the Slow Flow & Power Flow meet. Whether you're a seasoned yogi or are just getting onto your mat, modifications & variations will be offered to help you customize your practice. Open to students of all levels.