Bettina Evans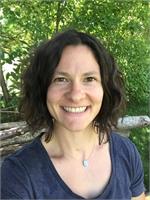 I began practicing yoga regularly in 2013. After having my second child, I was sleep deprived, not feeling great about my body, & having a hard time managing my anxiety. I knew yoga was a great physical workout, but I had also heard of it's other benefits - reducing stress, helping with anxiety, and... it was QUIET. So I would practice to YouTube videos in my woodstove room while my little one napped and my older child played. As I began other forms of exercise at home, I continued to practice yoga & wanted to try going to studio. I found Sanctuary Power Yoga & I loved my first class! As I began practicing more & integrating more yoga into my life, I noticed life was getting easier & I began feeling more content. Now, my practice is a part of my life for which I am quite grateful. I decided to become a yoga teacher to share my love of this practice with others.
Bettina Evans instructs the following:
Where the Slow Flow & Power Flow meet. Whether you're a seasoned yogi or are just getting onto your mat, modifications & variations will be offered to help you customize your practice. Open to students of all levels.




A moderate but strong flow, accessible to everyone. Strengthen, stretch, breathe - experience the power in being present. Adults are welcome to come, with or without kids! Kids will be able to play in the room, while the adults practice.

Room temperature: 80-85 degrees.