Amanda Halloran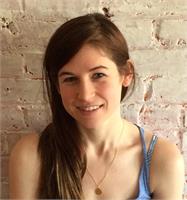 After struggling for years with a series of unhealthy choices and behaviors, including an eating disorder and depression, I was finally able to find balance and restoration in my life through yoga. I started off doing yoga in my bedroom - watching videos and listening to tapes. I was at first hesitant to go to a class, and felt very unnerved by the idea people looking at me, and judging me. Slowly this fear lessened, and I made it to my first Vinyasa class. I realized very quickly that people weren't staring at me or judging me. I slowly began to completely let go of fear that I had. It was not long after my first real class that I knew that I wanted to teach yoga. Yoga has allowed me to change my life dramatically through persistent practice with others, as well as by myself - yoga has transformed my life in so many ways. My mission is to spread my knowledge of yoga to those I teach, and allow space for students to find their own balance and healthy lifestyle.
Amanda Halloran instructs the following:
Our signature class. An energizing flow that connects you to your power. A full body workout, meditation in motion. Be ready to breathe...sweat...and experience transformation! Open to students of all levels.