Heather Rems Korwin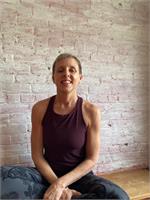 Owner - Sanctuary Power Yoga
My introduction to yoga came with practicing yoga with videotapes in my living room. After time, and with some prodding from a friend, I ventured into my first heated, power yoga class. I loved it. It was an experience unlike any other. Before that, I had been a dancer, a swimmer, a runner, a biker, a gym enthusiast. But after that first class, I knew yoga was it for me. Yoga means "union" & that is what I feel every time I get on my mat. My body, my breath, my mind, my spirit - all united. I feel whole & connected. Yoga has transformed me & the way I live my life. It seemed a natural progression for me, then, to become a teacher of yoga. To share what I love about this practice with others. And every time I teach, I learn more about myself. I have been teaching heated power yoga for more than 10 years & have been blessed to train, practice & work with many, many gifted & inspirational teachers. In March 2011, my family & I moved from the Boston area, back to Connecticut where I grew up. When the opportunity to open Sanctuary Power Yoga presented itself to me, it was literally a dream come true. I am thrilled to be able to bring this type of yoga to the area & to be able to create sacred space where people can come together to practice & share their time & energy. Whether you are a seasoned yogi or have never tried yoga before, I personally invite you to join me for a class at Sanctuary Power Yoga. To breathe, sweat & experience transformation for yourself.
Heather Rems Korwin instructs the following:
Where the Slow Flow & Power Flow meet. Whether you're a seasoned yogi or are just getting onto your mat, modifications & variations will be offered to help you customize your practice. Open to students of all levels.




Our signature class. An energizing flow that connects you to your power. A full body workout, meditation in motion. Be ready to breathe...sweat...and experience transformation! Open to students of all levels.